Google's popular Gmail service was down for many users across the world on Saturday and the problem lasted nearly three hours with many users unable to send messages. Downdetector.com reported a spike in Gmail outage status on Saturday as well. Google's own app status dashboard shows an issue with Gmail, which was resolved around 6.27 pm UTC or around 11.57 PM IST.
The message on Google's app status dashboard read, "The issue with gmail is now fully mitigated. All the backlog of undelivered messages have been cleared and mail services are back to normal. Thanks for your patience while we resolve this issue."
Earlier on, updates on the Google app status dashboard admitted that there was a problem and that engineering teams were trying to resolve the issue. The information for Gmail noted, "We are experiencing an issue with Gmail. Users may experience delays in email delivery. Our engineering team continues to investigate the issue. We will provide an update by Saturday, 2022-12-10 08:30 US/Pacific with current details."
An updated message from the team added that "mitigation is currently underway and email delivery is no longer failing, however, the Google Engineering team is now working through the backlog of undelivered messages and expect all messages to be delivered in the next few hours. We will provide more information by Saturday, 2022-12-10 10:00."
Across India, users complained of undelivered emails and an unresponsive Gmail app. Gmail's enterprise services are also affected at the moment. Gmail, which has over 1.5 billion users worldwide, was among the top downloaded apps of 2022. A couple of hours after the outage was first reported, Downdetector continued to show the email service in red. Both the app and desktop services have been affected by this unprecedented outage.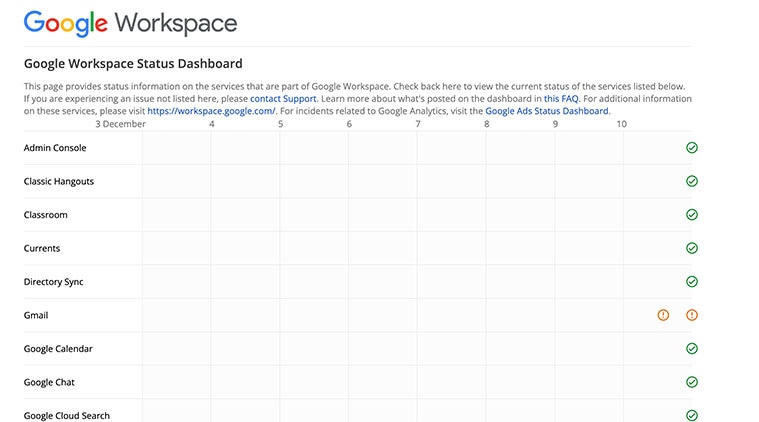 Google's own app status dashboard still shows an issue with Gmail.
As users struggled to send out important mails, #GmailDown started trending on Twitter and other social media platforms. According to some of the comments posted on Downdetector, users got a message saying there could be delays in receiving and sending emails. Many of the users complained that they were not receiving mails on their account.
Check out some of the tweets on Gmail being down below 
Is Gmail Down for everyone or is there anything wrong with my accounts? I am not receiving any mail.

— Vajra (@vajraTheAstra) December 10, 2022
Google and Gmail services are down for some users. #GmailDown #GoogleDown pic.twitter.com/6HspVKUPUx

— Pratyush Ranjan (@pratyush_ranjan) December 10, 2022
User reports indicate Gmail is having problems since 9:12 AM EST. https://t.co/EsWw2oLYjH RT if you're also having problems #Gmaildown

— Downdetector (@downdetector) December 10, 2022
Google did not officially issue a statement on the outage. Previously, Meta's WhatsApp was gone down in the month of October causing mass disruption, given the sheer number of users on the platform. As always, when major services from Google or Meta face an outage, the scale of users impacted is much higher given that these platforms have billions of customers.